National Stroke Awareness Month and National High Blood Pressure Education Month—2017
This Year's Focus
Stroke is the fifth leading cause of death in the United States and a major cause of adult disability. Many factors may affect a person's risk for stroke, including high blood pressure, age, family health history, and more. The good news? Many strokes are preventable and treatable.
Throughout May, Million Hearts® and the CDC Division for Heart Disease and Stroke Prevention will share tips and resources to empower Americans to manage risk factors—like high blood pressure—that contribute to stroke and encourage people to learn the signs and symptoms of stroke. We invite you to join our efforts.
Take Action
Follow Million Hearts® on Facebook and Twitter throughout May and beyond. Retweet and share our posts to raise awareness about stroke and high blood pressure among your friends and followers.
Key Messages
Use these key messages in original social media posts and other communication materials to help spread the word about National Stroke Awareness Month and National High Blood Pressure Education Month:
Social Media
Social Shareables
Visit our photo album on Facebook for shareable social media graphics.
Twitter Chat
Sample Messages
Share the social media posts below on Facebook, Twitter, and other social platforms. 
Facebook
Twitter/Instagram
e-Signature
Tell your colleagues, friends, and family it's National Stroke Awareness Month by adding this badge to your e-mail signature.
Copy the image to your local computer.
Open the signature option in your e-mail program.
Copy and paste the image into your signature.
Save and exit.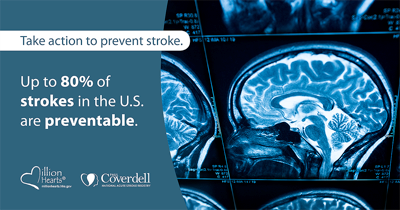 Quiz
Can you spot the signs and symptoms of a stroke? Knowing how to spot a stroke and respond quickly could potentially save a life—maybe even your own. Take the quiz and put your stroke knowledge to the test. http://bit.ly/2pw66gA
Additional Resources
Educate patients and professionals with resources from Million Hearts®, the Paul Coverdell National Acute Stroke Program, and the CDC website, as well as resources from our partners.
Stroke Resources:
Blood Pressure Control Resources: