How to Use the Cardiac Rehabilitation Change Package
How Can I Use the Cardiac Rehabilitation Change Package?
The Cardiac Rehabilitation Change Package (CRCP) is meant to serve as a menu of options from which quality improvement (QI) teams can select specific interventions to improve cardiac rehabilitation (CR) utilization. We do not recommend that any teams attempt to implement all of the interventions at once, nor is it likely that all interventions will be applicable to your clinical setting.
Start by bringing together a team of CR professionals, physicians, administrators, and other relevant stakeholders to discuss the aspects of CR utilization that are most in need of improvement. The team can then select corresponding interventions from the CRCP that best address those issues.
The Institute for Healthcare Improvement's Model for Improvement18 suggests first posing three questions:
What are we trying to accomplish?
How will we know that a change is an improvement?
What changes can we make that will result in improvement?
The answers to these questions will point you to your QI objectives and related metrics. You can choose strategies from the many listed in this CRCP that align with your objectives and have been shown to result in improvement.
Read through the four focus areas (Systems Change, Referrals, Enrollment and Participation, and Adherence) for lists of change concepts and ideas that hospitals and CR programs can implement to improve CR utilization for their patient population. Each change concept and idea is paired with tools and resources suggested by experts in the field who have successfully used them. The Acknowledgments and Contributors section lists content contributors.
There are four types of tools showcased in the CRCP:
American Association of Cardiovascular and Pulmonary Rehabilitation (AACVPR) Cardiac Rehabilitation Systems Change, Referral, Enrollment, or Adherence Strategies—high-level issue summaries with concise guidance to aid implementation of programmatic strategies.
Case studies—detailed examinations of how a specific cardiac rehabilitation program was able to make a given change; they include motivation for program changes, timeline, staffing, and facilitators and barriers.
Program-specific tools—tangible resources that have been implemented by CR programs or researchers and can be adopted as is or adapted to meet other programs' needs.
Organization-specific tools—resources from clinical and public health organizations that support cardiac rehabilitation.
The tools contained in the CRCP have been used in the field over the past several years to systematize and improve CR utilization. Consequently, some clinical details in the tools may reflect treatment and management decisions that do not apply to or differ from your setting. However, these tools can be adapted by filtering in the evidence, practices, and characteristics that are unique to your patient population. Because the science behind CR utilization is ever changing, the CRCP will be periodically updated.
Once you have selected a change idea to implement, work through a Plan-Do-Study-Act (PDSA) cycle with a small number of patients (i.e., a "small test of change") to test the change idea in your clinical setting.
How Do I Measure Quality Improvement Efforts?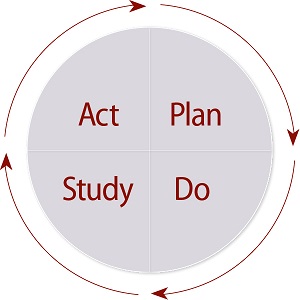 It is essential to monitor and measure QI efforts—both outcomes and processes. Overall outcomes such as improved CR enrollment rates or the percentage of patients who improve their functional capacity by 40% or more are important to measure, but it is also important to monitor process measures, such as the percentage of eligible patients who are visited by a CR liaison while in the hospital. This type of data can provide much-needed feedback on whether or not the interventions you are using are being successfully carried out. Begin by collecting baseline data on a process that you are interested in improving. Then test your "change ideas" on a smaller scale using a small number of patients, and discuss with clinical staff any identified potential barriers to implementation. These small tests of change can be used to assess the success of implementing the intervention and allow staff to make needed refinements prior to scaling up the project to a larger level.
One very helpful tool for displaying and monitoring efforts over time is a run chart. A run chart is a graph that displays performance on a given process or outcome longitudinally. It can be useful to chart performance over time to concretely show decision makers and other stakeholders why recommended changes are needed. You can then document when specific changes were made to show the impact that implemented changes yielded on performance. The Additional Resources and References page has more QI tools and resources.
Example of a Run Chart
Note: References for citations on this page can be found under Additional Resources.
Review the Focus Areas
Learn about the CRCP focus areas:
Page last reviewed:
October 24, 2019