How to Use the Hypertension Control Change Package
The HCCP is meant to serve as a menu of options from which practices can select specific interventions to improve hypertension (HTN) control. We do not recommend that any practice attempt to implement all of the interventions at once, nor is it likely that all interventions will be applicable to your clinical setting.
Start by bringing together a team of physicians, pharmacists, nurses, medical assistants, and administration to discuss the aspects of HTN control that are most in need of improvement. The team can then select corresponding interventions from the HCCP that best address those issues.
The Institute for Healthcare Improvement's Model for Improvement suggests posing three questions:
What are we trying to accomplish?
How will we know that a change is an improvement?
What changes can we make that will result in improvement?
The answers will point you to your quality improvement objectives and related metrics, and you can choose strategies from the HCCP that have been shown to result in improvement.
Read through the three focus areas (Key Foundations, Population Health Management, and Individual Patient Supports) for lists of change concepts and ideas that clinicians and practices have successfully implemented to improve HTN control for their patient population, and then take a look at the Hypertension Control Case Studies. Each change concept is paired with tools and resources suggested by experts in the field who have successfully used them. See the Acknowledgments and Contributors section for content contributors.
The tools contained in the HCCP have been used in the field over the past several years to systematize and improve HTN management; consequently, some clinical details in the tools may reflect treatment and management decisions that differ from your practice. But the tools can be adapted by filtering in the evidence, practice-specific patient population characteristics, and patient-specific needs. Because the science behind HTN control is ever changing, the HCCP will be periodically updated.
Once you have selected a change idea to implement, work through a Plan-Do-Study-Act (PDSA) cycleexternal icon with a small number of patients—that is, a "small test of change" to test the change idea in your clinical setting.
How to Measure Quality Improvement Efforts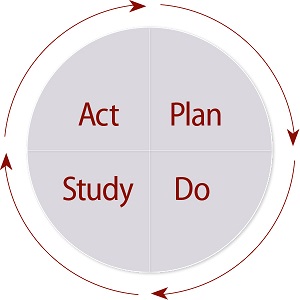 It is essential to monitor and measure quality improvement efforts—both outcomes and processes. Overall outcomes such as improved HTN control are important to measure, but process measures, such as the percentage of newly diagnosed patients with HTN who are brought back for a follow-up visit within a designated period of time, can provide much-needed feedback on whether or not interventions are being successfully carried out. Begin by reviewing small numbers of patient records or have discussions with clinical staff to identify potential barriers to implementation. These small tests of change should be used to assess the implementation of interventions and make needed refinements before spreading the work to a larger scale.
You may also find it useful to review these Additional Resources and References.
Review the Focus Areas
Learn about the HCCP focus areas:
Page last reviewed:
October 25, 2019