Focus Area: Population Health Management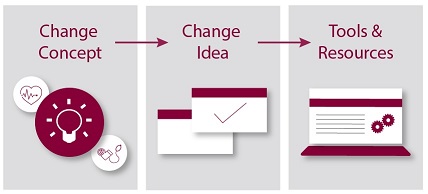 Population health management tools and approaches can help clinicians proactively monitor and manage hypertension (HTN) practice-wide. This includes clinician-driven treatment protocols and using practice data to drive improvement.
Note: Change concepts are general notions that are useful in the development of more specific ideas for changes that lead to improvement. Change ideas are actionable ideas for changing a process. Each change idea lists evidence- or practice-based tools and resources that can be adapted or adopted in a health care setting to improve HTN control.
Population Health Management: Change Concepts
Change Idea:
Implement an HTN registry
Tools & Resources:
---
Change Idea:
Identify patients with elevated BP yet without an HTN diagnosis; diagnose HTN as appropriate
Tools & Resources:
---
Change Idea:
Use a defined process for outreach (e.g., via phone, mail, email, text message) to patients with uncontrolled HTN and those otherwise needing follow-up
Tools & Resources:
Change Idea:
Use protocols to cover proactive outreach driven by registry use and respond to patient-submitted home BP readings
Tools & Resources:
Change Idea:
Determine HTN control metrics for the practice
Tools & Resources:
---
Change Idea:
Regularly provide a dashboard with BP goals, metrics, and performance
Tools & Resources:
Page last reviewed:
October 25, 2019