Spotlight: NYC Health + Hospitals/Metropolitan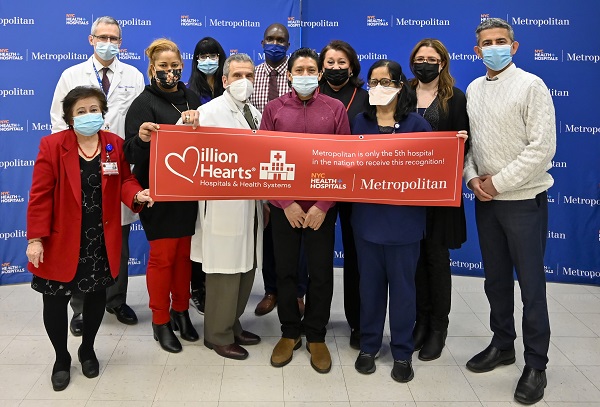 The Centers for Disease Control and Prevention (CDC) is pleased to recognize NYC Health + Hospitals/Metropolitanexternal icon, a part of NYC Health + Hospitals, as a Million Hearts® Hospital.
NYC Health + Hospitals/Metropolitan, founded in 1875, is a full-service community hospital that cares for patients from all five New York City boroughs. In 2020, the hospital had 338 certified beds, nearly 400,000 outpatient visits, and 38,000 emergency room visits. NYC Health + Hospitals/Metropolitan has been affiliated with New York Medical College, which represents the oldest partnership between a hospital and a private medical school in the United States.
NYC Health + Hospitals is the largest municipal hospital and health care system in the country.
Strategies for Success
NYC Health + Hospitals/Metropolitan is committed to the heart health of its community, patients, and employees. It was recognized by the Healthy Hospital Food Initiative pdf icon[PDF – 355 KB]external icon for meeting all city nutrition standards for purchased and served foods, and it addressed patient food insecurity by providing food benefit enrollment, food resource navigation, and Diabetes Self-Management Program referrals.
Blood pressure control is a top priority for NYC Health + Hospitals/Metropolitan. Nearly 71% of outpatients with high blood pressure have achieved control. The hospital also offers the "Treat to Target" program for patients with uncontrolled high blood pressure, which provides them with a self-measured blood pressure (SMBP) monitoring device along with phone or in-person support.
Congratulations!
NYC Health + Hospitals/Metropolitan is an example of what a hospital or health system can do to improve the cardiovascular health of its patients, employees, and community. We applaud NYC Health + Hospitals/Metropolitan for its efforts and commitment to improving cardiovascular health and preventing heart attacks and strokes in the community it serves.
Learn more about the Million Hearts® Hospitals & Health Systems Recognition Program and the effective strategies that can be deployed to prevent cardiovascular events.
Page last reviewed:
February 23, 2022