Particle Pollution and Heart Disease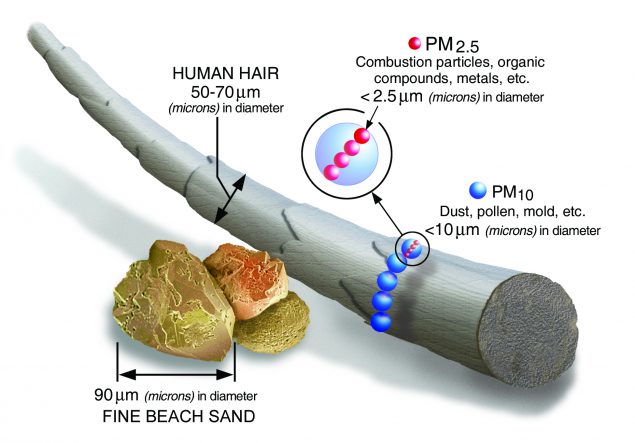 Particle pollution—also called particulate matter (PM)—is made up of particles (tiny pieces) of solids or liquids in the air.1 Research shows that short- and long-term exposure to particulate pollution are both linked to an increased risk of heart attacks and other forms of heart disease.2
About Particle Pollution
Some particles, such as dust, dirt, soot, or smoke, are large or dark enough to be seen with the naked eye. Others are so small that you cannot see them in the air.1 These small particles are called PM2.5 and are 2.5 micrometers and smaller in diameter. The average human hair is about 70 micrometers in diameter, or 30 times larger than the largest small particle.3 Some common sources of PM2.5 are tobacco smoke, automobile or diesel exhaust, and wood smoke.
Particle pollution can affect anyone, but it bothers some people more than others.1 Small particles are the biggest problem, because they are the most likely to cause health problems. Their small size allows them to be inhaled deeply into the lungs. Once small particles are in the lungs, they can affect the heart and blood vessels.4 That's why breathing in particle pollution can cause serious problems, such as a heart attack for someone with heart disease.1
Join the Conversation!
The Million Hearts® Climate Change & Cardiovascular Disease Collaborative (CCC), in partnership with the HHS Office on Climate Change and Health Equity, the CDC National Center for Environmental Health, and the Environmental Protection Agency, is a national forum for health care organizations to deepen their knowledge about the cardiovascular health threats that climate change (e.g., extreme heat, extreme temperatures) and air pollution (e.g., particulate matter) present, offer evidence-based interventions to address those threats (especially for high-risk populations), and provide opportunities to test and refine relevant solutions and tools.
Tools and Resources
For Clinicians
For Public Health
CDC National Environmental Public Health Tracking Network
The National Environmental Public Health Tracking Network integrates health, exposure, and hazard information and data from a variety of national, state, and city sources. View maps, tables, and charts with data about air pollution and some chronic diseases including heart disease.
Wildfire Smoke: A Guide for Public Health Officials (Revised 2019)

[PDF 1.5 MB]


This guide is intended to provide state, tribal, and local public health officials with information they need to be prepared for smoke events and, when wildfire smoke is present, to communicate health risks and take measures to protect the public.
American Transportation Research Institute: Compendium of Idling Regulations

[PDF – 333 KB]


Idling vehicles affect human health, pollute the air, waste fuel, and cause excess engine wear. Learn about current idling regulations by state.
EPA Clean Diesel and DERA Funding
New diesel engines are cleaner than ever before, but millions of older, dirtier engines are still in use. Reducing exposure to diesel exhaust from these older engines is important for human health and the environment.
Americans for Nonsmokers' Rights: Lists & Maps
This site provides a collection of state and local tobacco control laws including 100 percent smoke-free laws and e-cigarette laws.
Air Quality Flag Program
Organizations participating in the Air Quality Flag Program raise a flag that correspond to EPA's Air Quality Index (AQI): green, yellow, orange, red, and purple. On unhealthy days, organizations can use this information to adjust physical activities to help reduce exposure to air pollution, while still keeping people active.
Smoke-Ready Toolbox for Wildfires
Public health officials and others can use the resources in the Smoke-Ready Toolbox to help educate people about the risks of smoke exposure and actions they can take to protect their health.
Environmental Law Institute: Research Reports on Indoor Sources of Particulate Matter
Learn more about policies and programs to reduce indoor exposure to particulate matter from outdoor sources, cooking, and indoor wood burning.
Research on Health Effects from Air Pollution
This site provides a broad range of EPA's research to better understand the health effects of air pollutants, including individuals with heart disease.
For Individuals
Key Publications