Reports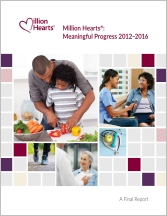 Million Hearts®: Meaningful Progress 2012–2016—A Final Report
Million Hearts® has aligned efforts across the country to prevent cardiovascular disease using a select set of evidence-based public health and clinical strategies. Although final numbers will not be available until 2019, we estimate that up to half a million cardiovascular events may have been prevented from 2012 through 2016.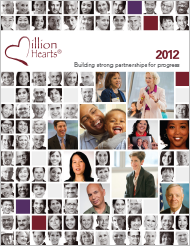 Million Hearts® 2012: Building Strong Partnerships for Progress
In 2012, the initiative's first year, Million Hearts® built strong partnerships to ensure steady progress toward preventing 1 million heart attacks and strokes by 2017. Check out just a few examples of how partners worked to improve heart health—a focus on the ABCS, using health information technology, and working in teams.
Other Publications
Heart Disease & Stroke
High Blood Pressure & Sodium
Medicine & Public Health
Page last reviewed:
March 17, 2020