Spotlight: HopeHealth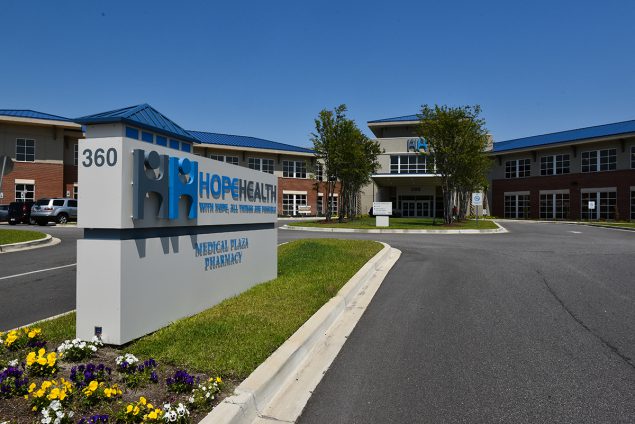 The Centers for Disease Control and Prevention (CDC) is thrilled to recognize HopeHealth of Florence, South Carolina, as a Million Hearts® Health System.
HopeHealth, founded in 1991, is a leader in providing affordable, integrated health care and infectious disease services for people of all ages in Aiken, Florence, Clarendon, Orangeburg, and Williamsburg counties in South Carolina.
This health system has 12 Federally Qualified Health Centers (FQHC), employs 500 staff, and serves more than 50,000 patients, 65% of whom are members of racial and ethnic minorities and 90% of whom are below 200% of the federal poverty level. Having achieved Gold Level status as an Advocacy Center of Excellence in 2018 and 2020, it is evident that HopeHealth takes the health of their community to heart.
Strategies for Success
HopeHealth provides wellness program cash rewards to its employees to encourage their investment in their own health. Employees earn rewards through gym attendance, activity trackers, and online wellness quizzes. This wellness program led to an increase from 13% to 29% in employees participating in gym activities from 2019 to 2020.
In addition to attending to the health and wellness of their employees, HopeHealth is dedicated to focusing on the cardiovascular health of their patients. Approximately 87% of their patients who have had a cardiovascular event have been appropriately prescribed aspirin or other antithrombotic.
HopeHealth has provided one-on-one training with clinical staff on the correct way to take and document blood pressure readings and has developed a self-measured blood pressure monitoring program (SMBP) that allows for blood pressure readings to go directly into patient records. HopeHealth has established alerts within the organization's electronic medical records (EMR) to identify patients with high LDL cholesterol levels (or "bad" cholesterol), as well as a risk stratification tool that identifies patients at high risk for cardiovascular disease. These practices have led to 80% of appropriate HopeHealth patients being prescribed a statin. The organization also uses on-site dietitians and nutrition counselors to assist patients in making healthy food and lifestyle choices.
About 85% of HopeHealth patients have been screened for tobacco use, and users are offered cessation services. For behavioral health patients, HopeHealth offers tobacco cessation counseling services, addiction counseling, medications, and automated referrals to their Quitline. HopeHealth is also implementing a tobacco-free campus policy, which includes e-cigarettes, and is committed to a no-idling policy to ensure good air quality for its patients and employees.
Congratulations!
HopeHealth serves as a great example of what a hospital or health system can do to improve the cardiovascular health of its patients, employees, and community. We applaud HopeHealth for its efforts and dedication to improving cardiovascular health and preventing heart attacks and strokes in the communities they serve.
Learn more about the Million Hearts® Hospitals & Health Systems Recognition Program and the effective strategies that can be deployed to prevent cardiovascular events.
Page last reviewed:
February 19, 2021