Spotlight: The Johns Hopkins Hospital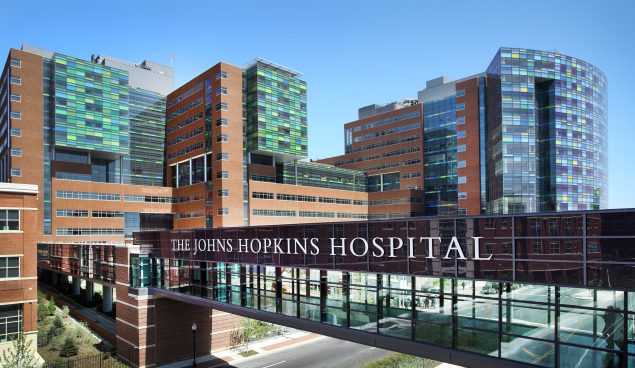 The Centers for Disease Control and Prevention (CDC) is delighted to recognize The Johns Hopkins Hospital (JHH) as a Million Hearts® Hospital.
JHH, located in Baltimore, Maryland, is an academic medical center that is part of Johns Hopkins Medicine (JHM). JHH is being recognized as a Million Hearts® Hospital for their work in improving employee wellness, achieving blood pressure control, and making advances in cardiac rehabilitation.
Strategies for Success
Employee Wellness
JHM has used the CDC Worksite Health ScoreCard to assess and guide their health promotion strategies. It has been a systemwide priority to improve their worksite health score over time, and JHH has been an active participant in achieving this goal and their recognition as a model ScoreCard employer.
A priority for JHH and all of JHM is mental health and reducing employee stress. JHH provides weekly Mindful Monday sessions where staff are led through a 15-minute mindfulness exercise. JHH also offers a 4-week Live & Work Mindfully program for teams to learn how mindfulness can help decrease the effects of stress at work and at home.
Healthy at Hopkins, the branded employee health and well-being program at JHH and Johns Hopkins Medicine, promotes movement during the workday to enhance cardiovascular health. Twice a year, JHH participates in the Race the Globe Steps Challenge, in which most recently more than 6,000 employees participated in teams of up to 8 people. Healthy at Hopkins has also been instrumental in making sure there are low sodium food options in the cafeteria and programs to increase awareness of how food affects heart health. Healthy at Hopkins knows the importance of movement and healthy foods in lowering blood pressure.
JHH has made a concerted effort to help their employees know their blood pressure numbers, launching an employee screening program through Healthy at Hopkins in 2019. That year alone, more than 2,600 employees had their blood pressure screened. Through this program, those with or at risk of high blood pressure can receive a home blood pressure monitor at no cost. JHH also provides Keep Your Pressure Down, a 12-week program to help employees build skills that result in better sleep, more movement, less stress, and healthier food choices.
Blood Pressure Control
JHH provides preventive services aimed at early detection to reduce the likelihood of having a heart attack and stroke. JHH has been focusing on blood pressure control by promoting accurate blood pressure measurement. The Johns Hopkins Center for Health Equity (JHCHE) developed a standardized protocol for automated office blood pressure measurements in primary clinical settings.
JHCHE and the JHCHE Community Advisory Board co-developed and implemented nurse care managers (CMs) and community health workers (CHWs) training curricula and a team-based collaborative care intervention to address uncontrolled blood pressure, particularly for communities that have been economically and/or socially marginalized. Through this training, JHH CMs and CHWs learn patient-centered techniques and address social determinants of health related to blood pressure control.
Additionally, as part of the RICH LIFE Project (Reducing Inequities in Care of Hypertension: Lifestyle Improvement for Everyone), JHCHE created a Hypertension Best Practices training program for clinicians and is currently in the process of developing a website to make the training available to non-JHH providers.
Advances in Cardiac Rehabilitation
JHH has been conducting a Hybrid Cardiac Rehab Quality Improvement project through Johns Hopkins Cardiac Rehabilitation. In this project, patients attend at least two in-person cardiac rehabilitation safety sessions, followed by a hybrid of home-based or in-person cardiac rehabilitation. Patients are supported with an app-based digital health intervention and are paired with a coach for weekly check-in calls to promote engagement. The hospital also created an animated video to explain the importance of cardiac rehabilitation, what patients can expect while in cardiac rehabilitation, and how they can take control of their heart health.
To improve cardiovascular outcomes, cardiologists at Johns Hopkins developed the Corrie digital health app as a patient-centered digital health intervention to support adoption of guideline-directed cardiovascular disease prevention strategies.
Through this app, which can be paired with a smart watch and blood pressure monitor, patients can engage with a daily care plan, educational videos, medication tracking, blood pressure management, physical activity and exercise tracking, mood assessments, and connections to appointments and follow-ups.
The app has been further developed into a hybrid cardiac rehabilitation program to support cardiac rehabilitation patients. Patients can complete exercise sessions from home, tracked on the app, or can continue to participate in center-based cardiac rehabilitation.
The Corrie app and hybrid cardiac rehabilitation program are aligned with Million Hearts® objectives, including reducing sodium consumption, promoting tobacco cessation, reducing physical inactivity, increasing the initiation rate among those referred to cardiac rehabilitation, and increasing patient engagement in heart-healthy behaviors.
Congratulations!
Johns Hopkins Hospital is a stellar example of what a hospital or health system can do to improve the cardiovascular health of its patients, employees, and community. We applaud The Johns Hopkins Hospital's efforts and commitment to improving cardiovascular health and preventing heart attacks and strokes in the community it serves.
Learn more about the Million Hearts® Hospitals & Health Systems Recognition Program and the effective strategies that can be used to prevent cardiovascular events.
Additional accolades related to cardiovascular health:
JHH pioneered the first direct heart surgery in 1944, developed CPR in 1958, and preformed the first defibrillator implantation in a human being in 1982. JHH is ranked #1 in Maryland and #5 in the nation on U.S. News & World Report's Best Hospitals 2022-2023 Honor Roll. The hospital has been designated as one of the top 5 hospitals in the nation for all 33 years of the U.S. News & World Report rankings.