Blood Pressure Control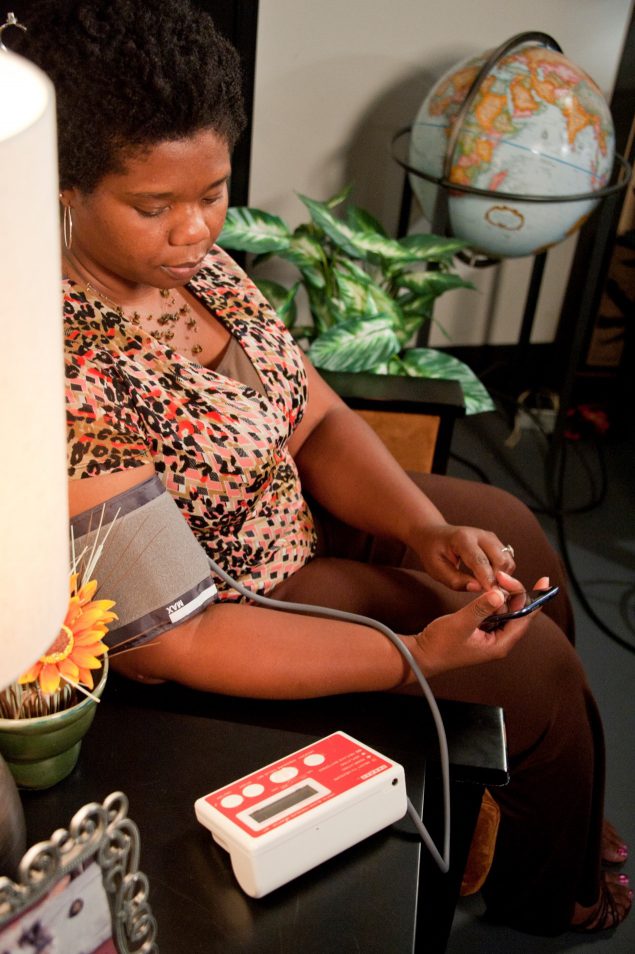 High blood pressure, also known as hypertension, affects men and women of all races, ethnicities, and age groups throughout the U.S.. An estimated 47% of U.S. adults (116 million) have high blood pressure, using criteria from the 2017 clinical guideline from the American College of Cardiology (ACC), the American Heart Association (AHA), and other organizations, which defines high blood pressure as systolic blood pressure >130 mmHg and/or diastolic blood pressure >80 mmHg.1,2
Of people with high blood pressure who are recommended to be on antihypertensive medications and make lifestyle modifications, 74% (68 million) do not have their blood pressure under control. Uncontrolled blood pressure is a leading cause of heart attack, stroke, heart failure, dementia, and kidney disease. Moreover, hypertensive disorders of pregnancy are increasing in prevalence.3,4 These conditions raise a woman's lifetime risk of cardiovascular disease (CVD) and are associated with poor birth outcomes.5
The prevalence of hypertension is higher in non-Hispanic Black persons than non-Hispanic White persons or persons of Hispanic origin. Moreover, non-Hispanic Black persons develop hypertension at younger ages than non-Hispanic White persons.6 Death rates from CVD linked to high blood pressure are increasing for people aged 35-64 in the majority of U.S. counties, and are highest among non-Hispanic Black persons.7 Additionally, people living in communities with a low socioeconomic status or without health insurance are less likely to have controlled high blood pressure than their counterparts.8.9
National surveillance data suggest that millions of people are unaware of their high blood pressure and data from clinical settings reinforce this; there are non-trivial numbers of patients seen in clinical settings who have multiple abnormal blood pressure readings but have not been diagnosed with hypertension. These patients with potentially undiagnosed hypertension are "hiding in plain sight" and strategies exist for finding them so they can be appropriately diagnosed, treated, and brought to control.10
The 2017 ACC/AHA blood pressure guideline recommends initial combination therapy with two or more antihypertensive medications for most people with hypertension. Despite this recommendation, surveillance data show that 40% of people with hypertension are on monotherapy.11 Moreover, Blood pressure control related to the medication class and number of medications taken vary by race. Black persons have lower rates of control than White persons across all medication classes and among those on two, three, or four different classes.12 Standardized hypertension treatment protocols can be used to support timely medication intensification, improve blood pressure control, and may help achieve equitable care.13
Another evidence-based strategy that has been shown to lower blood pressure and improve control in persons with hypertension is self-measured blood pressure monitoring (SMBP). When combined with additional clinical support, SMBP may also reduce therapeutic inertia and improve medication adherence. SMBP is also recommended to confirm new hypertension diagnoses, and many resources exist to support its use.
Related Webpages
Tools and Resources
For Clinicians
For Public Health Practitioners
For Patients
Whelton PK, Carey RM, Aronow WS, et al. 2017 ACC/AHA/AAPA/ABC/ACPM/AGS/APhA/ASH/ASPC/NMA/PCNA Guideline for the Prevention, Detection, Evaluation, and Management of High Blood Pressure in Adults: A Report of the American College of Cardiology/American Heart Association Task Force on Clinical Practice Guidelines. Hypertension. 2018 Jun;71(6):e13-e115. Erratum in: Hypertension. 2018 Jun;71(6):e140-e144.
Centers for Disease Control and Prevention (CDC). Hypertension Cascade: Hypertension Prevalence, Treatment and Control Estimates Among US Adults Aged 18 Years and Older Applying the Criteria From the American College of Cardiology and American Heart Association's 2017 Hypertension Guideline—NHANES 2015–2018. Atlanta, GA: US Department of Health and Human Services; 2019. Accessed August 21, 2021. https://millionhearts.hhs.gov/data-reports/hypertension-prevalence.html
Bornstein E, Eliner Y, Chervenak FA, Grünebaum A. Concerning trends in maternal risk factors in the United States: 1989-2018. EClinicalMedicine. 2020 Nov 20;29-30:100657.
Umesawa M, Kobashi G. Epidemiology of hypertensive disorders in pregnancy: prevalence, risk factors, predictors and prognosis. Hypertens Res. 2017 Mar;40(3):213-220.
Khosla K, Heimberger S, Nieman KM, et al. Long-Term Cardiovascular Disease Risk in Women After Hypertensive Disorders of Pregnancy: Recent Advances in Hypertension. Hypertension. 2021 Aug 15:HYPERTENSIONAHA12116506.
Thomas SJ, Booth JN 3rd, Dai C, et al. Cumulative Incidence of Hypertension by 55 Years of Age in Blacks and Whites: The CARDIA Study. J Am Heart Assoc. 2018 Jul 11;7(14):e007988.
Vaughan, Adam. "Local disparities in hypertensive CVD mortality". Presentation. Federal Hypertension Control Leadership Council. April 22, 2021.
Shahu A, Herrin J, Dhruva SS, et al. Disparities in Socioeconomic Context and Association With Blood Pressure Control and Cardiovascular Outcomes in ALLHAT. J Am Heart Assoc. 2019 Aug 6;8(15):e012277.
Muntner P, Hardy ST, Fine LJ, et al. Trends in Blood Pressure Control Among US Adults With Hypertension, 1999-2000 to 2017-2018. JAMA. 2020 Sep 22;324(12):1190-1200.
Wall HK, Hannan JA, Wright JS. Patients With Undiagnosed Hypertension: Hiding in Plain Sight. JAMA. 2014;312(19):1973–1974.
Derington CG, King JB, Herrick JS, et al. Trends in Antihypertensive Medication Monotherapy and Combination Use Among US Adults, National Health and Nutrition Examination Survey 2005-2016. Hypertension. 2020 Apr;75(4):973-981.
Hayes D, Jackson S, Yanfeng L, et al. Blood pressure control among Black, non-Hispanic adults is lower than White, non-Hispanic adults despite similar treatment with anti-hypertensive medication. Am J of HTN. 2022. In press.
Zheutlin AR, Mondesir FL, Derington CG, et al. Analysis of Therapeutic Inertia and Race and Ethnicity in the Systolic Blood Pressure Intervention Trial: A Secondary Analysis of a Randomized Clinical Trial JAMA Network Open. 2022;5(1):e2143001.