Cardiac Rehabilitation
Cardiac rehabilitation, or cardiac rehab, is a comprehensive secondary prevention program designed to improve cardiovascular health following a cardiac event or procedure. An optimal cardiac rehab experience consists of 36 one-hour sessions that include team-based supervised exercise training, education and skills development for heart-healthy living, and counseling on stress and other psychosocial factors (Mayo Clinic Proceedings, 2016). Participation in a cardiac rehab program can reduce the risks of death from any cause and from cardiac causes as well as decrease hospital readmissions. Cardiac rehab participation also improves functional status, quality of life, mood, and medication adherence (Cochrane Database of Systematic Reviews, 2016). Despite these benefits, participation in cardiac rehab remains low, ranging from 19% to 34% in a national analysis (Mayo Clinic Proceedings, 2016), with strong state-by-state geographic variations and differences by cardiac diagnosis. While cardiac rehab services are widely covered by public and private plans, co-pays per session represent a financial obstacle for most participants.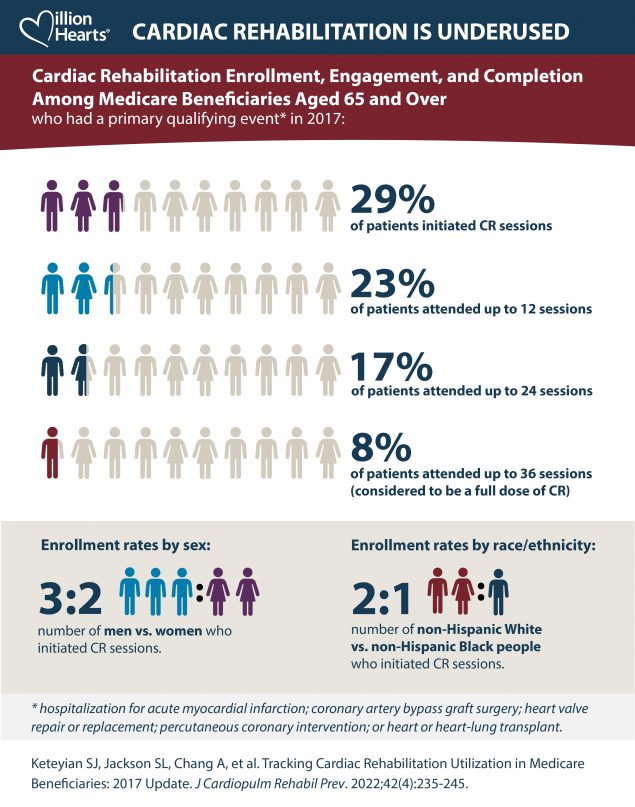 Strong evidence shows that cardiac rehab programs can benefit individuals who have:
Had a heart attack.
Stable angina.
Received a stent or angioplasty.
Heart failure with reduced ejection fraction.
Undergone a bypass, valve, or heart or heart-lung transplant surgery.
Improving awareness of its value, increasing referral of eligible patients, and reducing system and patient barriers to participation are all critical steps in improving the referral, enrollment, and participation rates in cardiac rehab programs. Effective remedies have been identified but are not being widely and systematically implemented.
Tools and Resources
For Clinicians and Cardiac Rehab Teams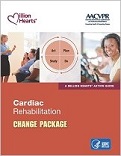 Cardiac Rehabilitation: Change Package
This change package is a quality improvement tool to help teams from hospitals and cardiac rehabilitation programs put systems and strategies in place that target improved care for more eligible patients. It presents a listing of process improvements that cardiac rehabilitation champions can implement and includes change concepts, change ideas, and tools and resources.
Cardiac Rehabilitation At A Glance
This easy-to-scan page highlights key statistics and benefits of the existing cardiac rehabilitation infrastructure. Learn about current challenges as well as strategies needed to maximize uptake of programs in the United States.

Value-Based Care
This initiative from the American Association of Cardiovascular and Pulmonary Rehabilitation (AACVPR) provides turnkey strategies to improve enrollment and adherence in cardiac rehab programs.
Cardiac Rehab Information for Physicians Webinar Series
This 15-module webinar series provides physicians with information to optimize care for patients who are eligible for or who are participating in cardiac rehabilitation. Dual Continuing Medical Education/Maintenance of Certification (CME/MOC) credit is available. It is available to all at no charge although non-ACC members will need to create an ACC account.
Heart Disease Communications Kit
Use this communications kit to spread awareness about heart disease prevention. Share messages and graphics to help your audiences understand the basics of heart disease, related conditions, ways to reduce risk, and treatment.
For Patients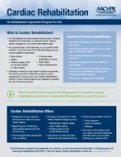 Cardiac Rehabilitation

[PDF – 399K]


This AACVPR fact sheet provides an overview of cardiac rehab and outlines the benefits to participating in a program. It can also be displayed and distributed in waiting rooms.
Home Health Quality Improvement Cardiac Rehab Video Playlist
This collection of videos, from the American College of Cardiology, the Centers for Medicare & Medicaid Services, and other organizations, covers important information about cardiac rehab, including program basics and what to expect from participating in a cardiac rehab program. Additionally, these videos include stories and experiences from patients who participated in cardiac rehab programs.
American Heart Association: Cardiac Rehab
This collection of materials from the American Heart Association provides patients with details about what cardiac rehab offers, its benefits, eligibility guidance, common questions and answers, and what can be expected from the experience.
For Partners
References and Key Publications