Spotlight: New Hanover Regional Medical Center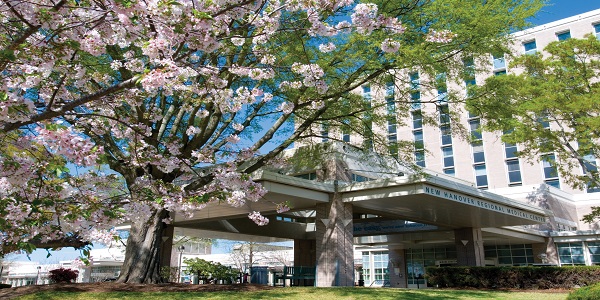 "We were excited to learn about the Million Hearts® Hospitals & Health Systems Recognition Program because it helped give us motivation to achieve improvements and aligned perfectly with our Hypertension Quick Wins project."
—Mackie King, PharmD, BCPS, AAHIVP, CPP
Clinical Pharmacy Specialist-Internal Medicine Clinic/Care Team Clinic, New Hanover Regional Medical Center
The Centers for Disease Control and Prevention (CDC) is delighted to recognize New Hanover Regional Medical Center (NHRMC), located in Wilmington, North Carolina, as a Million Hearts® Health System.
NHRMC has taken on the goal of preventing heart attacks and strokes in its community. Programs such as Dancin' in the Park and blood pressure screenings at barber shops, with links back to clinicians, have been enhanced by the development of a new system to track outcomes of community activities within patients' electronic medical records. This means that blood pressure readings taken at a community program can prompt referrals and appropriate follow-up. NHRMC's support for its 7,500 employees' heart health includes nutrition and fitness classes offered at its onsite fitness center, an onsite staff health clinic, and quarterly tobacco cessation classes. Approximately 1,400 patients are enrolled in NHRMC's healthy lifestyle plan where they enjoy $0 co-pay on all medications related to hypertension, cholesterol, diabetes, and depression.
Leaders at NHRMC know that improving the quality of outpatient services related to appropriate use of aspirin and other anticoagulants, prescribing statins for cholesterol management, and improving hypertension control are all important strategies to reduce heart attacks and strokes in the patients NHRMC serves. For outpatients at high risk for a cardiovascular event, 92% are prescribed aspirin or another antithrombotic, and 85% have been prescribed a statin for cholesterol management as indicated. In addition to excelling at getting high-risk patients onto aspirin and statins, NHRMC recently launched a "Hypertension Quick Wins" project to improve blood pressure control for the 25% of its patients who have uncontrolled hypertension, using a combination of patient education, community outreach and education, and feedback for clinicians and staff.
And finally, NHRMC is dedicated to improving the health of patients who have had a heart attack by working with them to prevent future cardiovascular events. Through inpatient automated orders, help from cardiac rehabilitation liaisons, and referrals to convenient locations, NHRMC continues to support patients and provide them with life-saving cardiac rehabilitation services.
We applaud NHRMC for its efforts and strong commitment to improving the cardiovascular health of its patients, employees, and community. NHRMC is an excellent example of how an institution can improve the cardiovascular health of the population it serves, thus preventing heart attacks and strokes in the community.
Learn more about the Million Hearts® Hospitals & Health Systems Recognition Program and the effective strategies that can be deployed to prevent cardiovascular events.
Page last reviewed:
September 15, 2020