Spotlight: UCHealth Memorial Hospital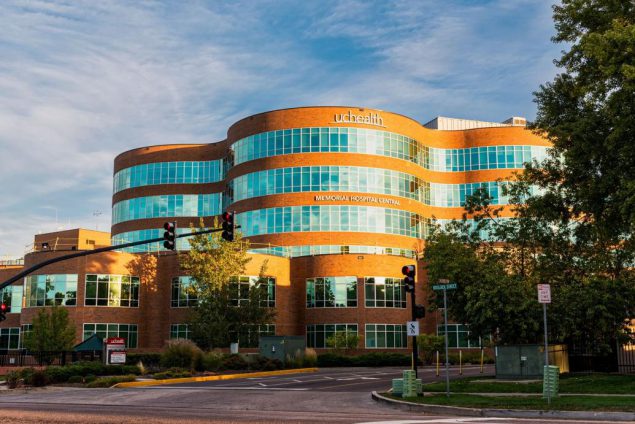 The Centers for Disease Control and Prevention (CDC) is pleased to recognize UCHealth Memorial Hospital as a Million Hearts® Health System recipient.
UCHealth Memorial Hospital, part of UCHealth, a nonprofit health care system, comprises Memorial Hospital Central (a 368-bed Level I Trauma Center and Comprehensive Stroke Center) and Memorial Hospital North (124 beds), both in Colorado Springs, Colorado.
UCHealth Memorial Hospital is dedicated to improving the heart health of patients, employees, and the communities it serves. Memorial Central and Memorial North are stellar examples of what a hospital or health system can do to prevent heart attacks and strokes for their patients.
Strategies for Success
UCHealth Memorial, which referred approximately 68% of eligible patients in 2021 to cardiac rehabilitation, continues to focus on improving their referral rates. They have implemented automated referrals through order sets, have hired a dedicated nurse to improve the referral process and communication with staff, and offer patients three locations (UCHealth's Memorial Hospital Central, Memorial Hospital North, and Pikes Peak Regional Hospital) to increase convenience for patients.
With funding from CDC through the Colorado Department of Public Health and Environment, UCHealth Memorial Hospital developed a hybrid cardiac rehabilitation program. This approach is critical to maintaining and increasing access in response to the COVID-19 pandemic for those experiencing quarantine restrictions, challenges with employment commitments, and transportation issues. Twice-weekly, synchronous virtual sessions are run by an exercise physiologist via a secure, two-way video platform for a group of patients, fostering strong comradery and accountability among participants.
Although the goal is for patients to attend 12 classes in person, as few as three to six in-person classes are permitted with a documented reason as to why in-person attendance is problematic. Patients are, however, required to return in-person every 30 days to update their treatment plan and goals. Outcome data is in the process of being collected as patients progress, and early patient feedback shows high satisfaction with the hybrid option.
This hospital will soon be opening the hybrid cardiac rehabilitation program to patients located in the more rural communities.
Besides their work in cardiac rehabilitation, UCHealth Memorial Hospital has made smoking cessation a priority by screening 99.9% of patients at intake and providing counseling for 100% of current tobacco users and those who have recently quit. For patients who had a cardiovascular event at UCHealth Memorial Hospital, hospital staff have been successful in assuring that patients are discharged on aspirin to prevent subsequent events.
Congratulations!
UCHealth Memorial Hospital highlights the impact a hospital or health system can have to improve the cardiovascular health of its patients. We applaud UCHealth Memorial Hospital for its efforts and commitment to improving cardiovascular health and preventing heart attacks and strokes in the community it serves.
Learn more about the Million Hearts® Hospitals & Health Systems Recognition Program and the effective strategies that can be used to prevent cardiovascular events.
Page last reviewed:
June 29, 2022