Data
Potential Future Burden of Cardiovascular Events Targeted for Prevention by Million Hearts® 2022
This map shows states' Million Hearts®-preventable cardiovascular event rates (per 100,000 people) and counts (in thousands) that are projected to occur among adults aged 18 years or older during 2017–2021 if no preventive action is taken. States in the southeastern United States and extending north to Michigan have the highest event rates. Clicking on each state will reveal information about the state's expected events for all adults, as well as for adults aged 35 to 64 years—a Million Hearts® priority population. Click on the ">>" box in the upper left hand corner of the map to reveal its legend. States on the map with cross hatching marks have estimated values because of incomplete data.
Source: Agency for Healthcare Research and Quality's Healthcare Cost and Utilization Project State Emergency Department Databases and State Inpatient Databases; National Center for Health Statistics' National Vital Statistics System Mortality Data.
Abbreviations: ED = emergency department
Snapshots of Progress
Million Hearts® Snapshots of Progress showcase advances toward achieving the initiative's goal to prevent 1 million heart attacks and strokes by 2017. Rather than completed analyses, these simple tables and figures provide a visual snapshot in time of progress on specific measures.
Right-click on each graphic to save it for sharing. Check back often to see new snapshots!
Tobacco Interventions
This snapshot highlights the percentage of known tobacco users receiving care from health centers funded by the Health Resources and Services Administration (HRSA) who received tobacco cessation intervention compared to the Million Hearts® target doubled from 2011 to 2013.
Source: Data are reported from the HRSA Uniform Data Systemexternal icon.
Medicare Reporting Coverage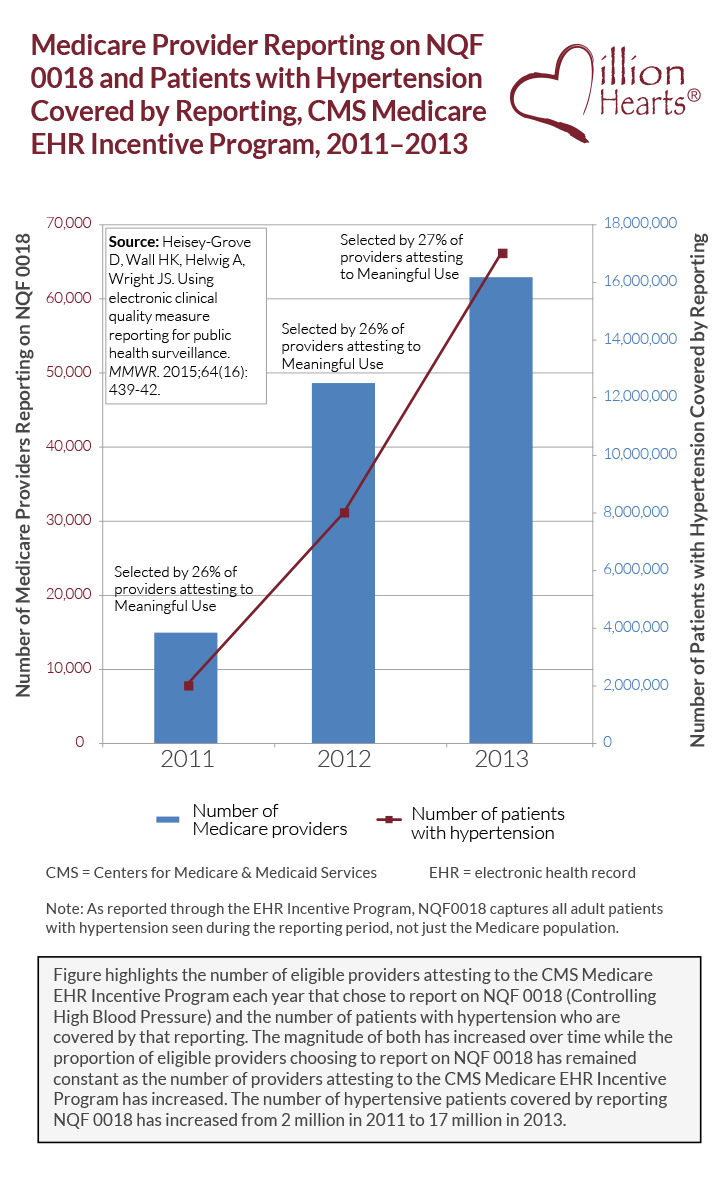 This snapshot highlights the number of eligible providers attesting to the Centers for Medicare & Medicaid Services' Medicare Electronic Health Record (EHR) Incentive Program each year who chose to report on measure NQF 0018 (Controlling High Blood Pressure), which captures all adult patients with hypertension seen during the reporting period, and the number of patients with hypertension who are covered by that reporting."
The size of both numbers has increased over time while the proportion of eligible providers choosing to report on NQF 0018 has remained constant and the number of providers attesting to the program has increased. The number of hypertensive patients covered by reporting on measure NQF 0018 has increased from 2 million in 2011 to 17 million in 2013.
Source: Heisey-Grove D, Wall HK, Helwig A, Wright JS. Using electronic clinical quality measure reporting for public health surveillance. MMWR. 2015;64(16):439–42.
Page last reviewed:
October 15, 2019