About Million Hearts®
Heart disease, stroke and other cardiovascular diseases kill over 800,000 Americans each year, accounting for one in every three deaths. It's the nation's number one killer among both men and women and the leading cause of health disparities across the population. To address this issue, the U.S. Department of Health and Human Services (HHS) established Million Hearts®, a five-year initiative co-led by the Centers for Disease Control and Prevention (CDC) and the Centers for Medicare & Medicaid Services (CMS).
Launched in 2012, the national initiative—alongside 120 official partners and 20 federal agencies—successfully aligned national cardiovascular disease prevention efforts around a select set of evidence-based public health and clinical goals and strategies. As a result, significant progress was made toward the audacious aim to prevent a million cardiovascular (CV) events in five years.
However, many challenges confront our collective effort to help Americans live longer, healthier lives. An aging population and increasing rates of obesity and diabetes threaten to undo the progress of the past few decades. After decades of steady improvements, the rate of decline in both heart disease and stroke mortality have essentially flattened in the U.S. This change in trend illustrates how important it is to continue the Million Hearts® mission and accelerate efforts and implement policies aimed at CV disease prevention.
Over the next five years, Million Hearts® will re-double its efforts to engage and equip partners and stakeholders nationwide to reach or exceed aggressive goals that will improve CV health and care for all Americans. Based on extensive modeling, expert interviews, and literature review, and an aim to prevent a million CV events in five years, the priorities of Million Hearts® are:
Optimizing Care by using teams, health information technology, and evidence-based processes to improve the ABCS (Aspirin when appropriate, Blood pressure control, Cholesterol management, and Smoking cessation), increase use of cardiac rehab, and enhance heart-healthy behaviors.
Keeping People Healthy with public health efforts that promote healthier levels of sodium consumption, increased physical activity, and decreased tobacco use.
Improving Outcomes for Priority Populations selected based on data showing a significant CV health disparity, evidence of effective interventions, and partners ready to act.
Building on the experience, expertise, and partnerships of the first five years, Million Hearts® 2022 seeks strong and specific commitments to these priorities so that together, we can improve CV health for all.
Check out the Million Hearts® 2022 framework [PDF-81K] and commit with us to carry out the priority actions needed to prevent 1 million heart attacks and strokes. Learn more about what current work is being done from the Million Hearts® At-A-Glance [PDF-343K].
Partner Materials
Access drop-in messages and materials—including a fact sheet, sample presentation, and logos—you can use to spread the word about Million Hearts® and your commitment to help prevent 1 million or more heart attacks and strokes by 2022.
Learn more ways you can partner with Million Hearts® and opportunities you can take to advance the goals of Million Hearts®.
Reports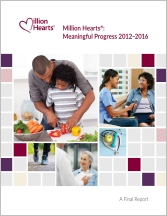 Million Hearts®: Meaningful Progress 2012-2016—A Final Report
Million Hearts® has aligned efforts across the country to prevent cardiovascular disease using a select set of evidence-based public health and clinical strategies. Although final numbers will not be available until 2019, we estimate that up to half a million cardiovascular events may have been prevented from 2012 through 2016.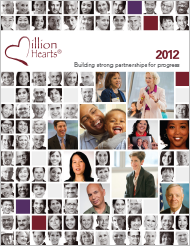 Million Hearts® 2012: Building Strong Partnerships for Progress
In 2012, the initiative's first year, Million Hearts® built strong partnerships to ensure steady progress toward preventing 1 million heart attacks and strokes by 2017. Check out a few examples of how partners worked to improve heart health—a focus on the ABCS, using health information technology, and working in teams.
Publications
Nurse Practitioner, February 2016
(Interview with Janet Wright, Executive Director of Million Hearts®)
Future Cardiology, May 2013
Journal of the American Academy of Nurse Practitioners, October 2012
Circulation, July 2012
US Cardiology, February 2012
Stroke, February 2012
Journal of the American College of Cardiology, December 2011
Morbidity and Mortality Weekly Report, September 2011
New England Journal of Medicine, September 2011
Circulation, September 2011