About Million Hearts®
Heart disease and stroke are the first and fifth leading causes of death in the United States. Every 43 seconds, someone in the United States has a heart attack, many of them fatal. On average, one American dies from stroke every 4 minutes.
Million Hearts® is a national initiative with an ambitious goal to prevent 1 million heart attacks and strokes by 2017. The Centers for Disease Control and Prevention and the Centers for Medicare & Medicaid Services co-lead the initiative on behalf of the U.S. Department of Health and Human Services.

Million Hearts® aims to prevent heart attacks and strokes by:
Improving access to effective care.
Improving quality of care for the ABCS of heart health:

Aspirin when appropriate.
Blood pressure control.
Cholesterol management.
Smoking cessation.

Focusing clinical attention on the prevention of heart attack and stroke.
Activating the public to lead a heart-healthy lifestyle.
Improving the prescription and adherence to appropriate medications for the ABCS.
Infographics
Reports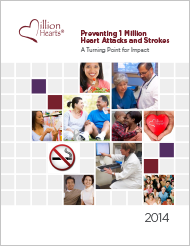 Preventing 1 Million Heart Attacks and Strokes: A Turning Point for Impact
Since launching in 2012, Million Hearts® has made progress toward reducing illness and death from heart attack and stroke. We've learned a lot from leaders and partners in health care and communities about how to effect change. At the halfway mark, we're accelerating our efforts—join us and take action.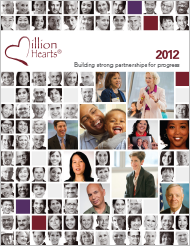 Million Hearts® 2012: Building Strong Partnerships for Progress
In 2012, the initiative's first year, Million Hearts® built strong partnerships to ensure steady progress toward preventing 1 million heart attacks and strokes by 2017. Check out a few examples of how partners worked to improve heart health—a focus on the ABCS, using health information technology, and working in teams.
Publications
Nurse Practitioner, February 2016
(Interview with Janet Wright, Executive Director of Million Hearts®)
Future Cardiology, May 2013
Journal of the American Academy of Nurse Practitioners, October 2012
Circulation, July 2012
US Cardiology, February 2012
Stroke, February 2012
Journal of the American College of Cardiology, December 2011
Morbidity and Mortality Weekly Report, September 2011
New England Journal of Medicine, September 2011
Circulation, September 2011