Spotlight: Eisenhower Health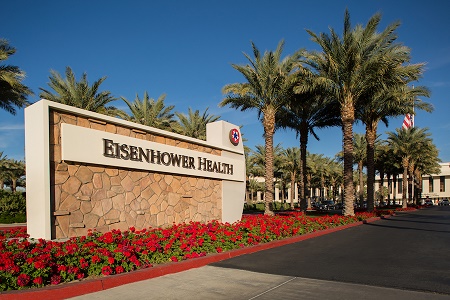 The Centers for Disease Control and Prevention (CDC) is pleased to recognize Eisenhower Health , based in Rancho Mirage, California, as a Million Hearts® Hospital. We recognize Eisenhower Health for its work in the following Million Hearts® priority areas:
Keeping People Healthy
Eisenhower Health has made impressive strides in increasing sales of healthy food items while decreasing purchases of unhealthy options. Outcomes include:
A 73% increase in the amount of fresh fruit sold from 2017 to 2019
Doubling fresh salad bar items, leading to an 8% increase in the number of purchases
An 8% decrease in potato chip sales
Additionally, Eisenhower Health has tobacco-free campus policies that include e-cigarettes, posts the air quality index online daily, and encourages and provides opportunities for employee physical activity and tobacco cessation.
Optimizing Care
Eisenhower Health is implementing strategies to improve cardiac rehabilitation referral and initiation for their eligible patients.
Improving Outcomes for Priority Populations
Eisenhower Health is also implementing strategies from the Million Hearts® Hypertension Control Change Package in an effort to improve hypertension control among their patients aged 35–64.
It is through efforts such as these that we believe heart attacks and strokes can be prevented, and we applaud Eisenhower's efforts and strong commitment to the cardiovascular health of their patients, employees, and community.
Learn more about the Million Hearts® Hospitals & Health Systems Recognition Program.
Page last reviewed:
February 6, 2020