Recipes for a Heart-Healthy Lifestyle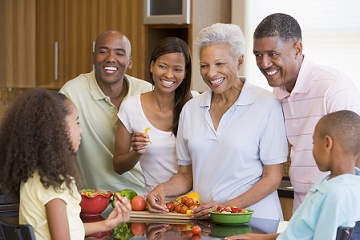 A heart-healthy lifestyle starts with healthy food choices. Eating a variety of foods rich in nutrients like potassium, calcium, magnesium, fiber, and protein and lower in sodium and saturated fat can help keep your blood pressure low and protect against heart disease and stroke.
Eating heart-healthy doesn't have to be boring or bland. In fact, it can be easy and delicious! Even though it's winter, there are many creative ways to eat plenty of fruits and vegetables. Warm up this winter with these hearty and heart-healthy dishes for every occasion.
Try these affordable, delicious recipes and helpful healthy eating resources from our partners at the U.S. Department of Agriculture (USDA); the National Heart, Lung, and Blood Institute (NHLBI); and the American Heart Association (AHA).
Healthy Eating Resources
Healthy Recipes
Appetizers and Sides
Main Dishes
Soups and Salads
Desserts
Make a Meal Plan
The Dietary Approaches to Stop Hypertension (DASH) eating plan includes foods that are low in sodium, which can increase blood pressure, and high in potassium, magnesium, and calcium, which help lower blood pressure. Find sample meal plans at these links: