Change Packages and Action Guides
The Million Hearts® Action Guide series provides clinicians, employers, and public health practitioners with evidence-based strategies for improving cardiovascular health. Each guide offers action steps and features proven tactics to help more Americans live heart-healthy, stroke-free lives.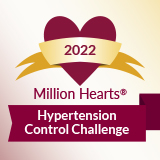 Call for Applications: 2022 Million Hearts® Hypertension Control Challenge
Million Hearts® is now accepting applications for the 2022 Hypertension Control Challenge through September 7, 2022.
Please send any questions to millionhearts@cdc.gov.
For Public Health Practitioners and Employers
Page last reviewed:
July 15, 2022