A Nation of Hypertension Control Champions
Since 2012, the Million Hearts® Hypertension Control Champions have shared valuable lessons for clinicians, practices, and health systems that want to improve blood pressure control among their patients. Read on to learn how the Champions achieved their remarkable success in hypertension control. Find strategies that can work in your practice to prevent and manage hypertension and reduce the risk of heart attack and stroke.
Who Are the Hypertension Control Champions?
The Million Hearts® Hypertension Control Challenge recognizes practices, clinicians, and health systems that have used creative strategies and evidence-based practices to achieve hypertension control rates of at least 80% for their patient populations. Since 2012, Million Hearts® has recognized 101 Hypertension Control Champions across the nation for their excellence in meeting—and often exceeding—high benchmarks in blood pressure control.
From 2012-2017 Million Hearts® recognized clinicians who had achieved hypertension control rates in their patient populations of at least 70%. Given the incredible successes in reaching this goal the benchmark was increased to an 80% control rate in 2018.
Hypertension Control Champions represent the breadth of the health care field, from small, independent, or rural practices to large urban health systems and Federally Qualified Health Centers (FQHCs). Champions use innovations in health information technology, patient communication, team-based care, and other strategies to reduce the risk of heart attack, heart disease, stroke, and other dangerous conditions for millions of people in the United States.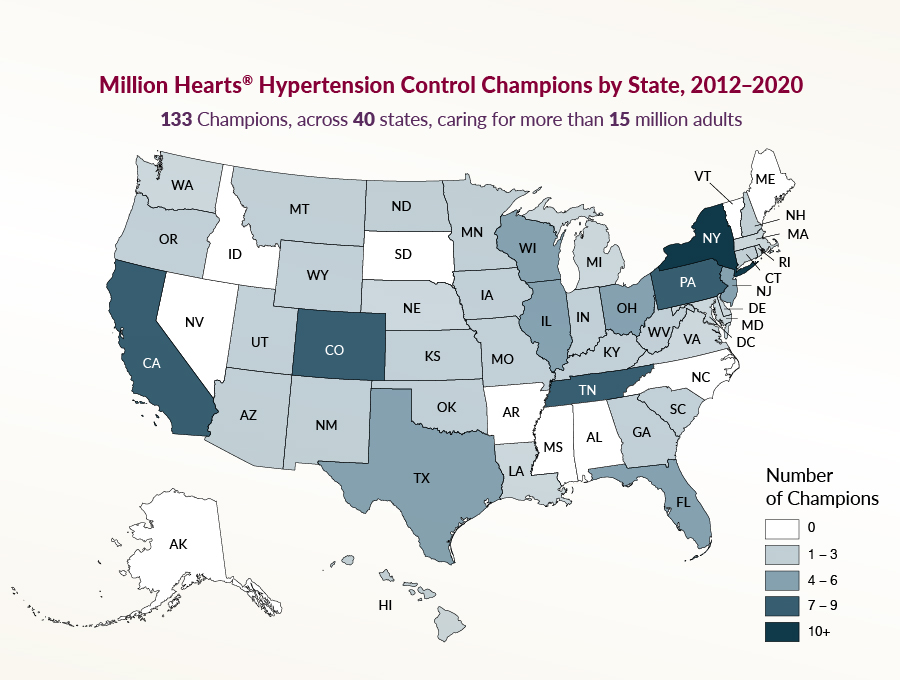 Learn the Champions' Success Strategies
While each provider, practice, or health system tailors strategies to meet its patients' needs, many Champions use similar tactics.
Harness the power of data.
Champions consistently use electronic health records and quality report metrics to find and diagnose patients with hypertension and keep better track of treatments and control.
For example, Reliant Medical Group, a group practice in central Massachusetts with about 300,000 patients, wanted to know how blood pressure was being measured across its many locations. By analyzing measurement data, Reliant discovered that most blood pressure readings were being rounded up or down to the nearest 10, which could leave many people with hypertension hiding in plain sight. Once the data revealed a problem, Reliant standardized their measurement procedures. The group also distributed digital blood pressure cuffs to all locations to assist with more accurate readings.
Through a combination of accurate measuring, home monitoring, and health care team support, Reliant achieved a hypertension control rate of 79% in its adult population in 2015.
Learn more about Reliant's success strategies pdf icon[PDF – 103 KB].
Establish a chronic care team.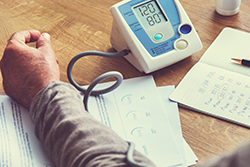 Champions improve blood pressure control by widening their care teams and enlisting nurses, medical assistants, pharmacists, and others in quality and control strategies. Care teams not only keep staff committed to the same goals and help prevent physician fatigue, but they can also improve a patient's experience and medication adherence rates.
For example, Sharp Rees-Stealy, a medical group in San Diego County, created a care team that included physicians, nurse practitioners, medical assistants, health coaches, pharmacists, and other staff. The care team met regularly to share evidence-based practices and agree on treatment protocols and procedures.
Members of Sharp Rees-Stealy's care team regularly checked in with patients to talk about any potential issues or barriers to hypertension control, such as lack of medication adherence. This allowed Sharp Rees-Stealy to tailor its approach: A pharmacist might help a patient find a new medication with fewer side effects, while a health coach counseled the patient on diet and exercise. In 2017, the group reached a hypertension control rate of 82%.
Learn more about Sharp Rees-Stealy's success strategies pdf icon[PDF – 302 KB].
Involve patients in their own care.
Champions know that patients need to be motivated to get and stay healthy. To that end, Champions regularly provide education on blood pressure and related chronic conditions and the risk for heart attack, heart disease, and stroke.
Sometimes patient education comes with additional challenges, such as language or cultural barriers. For example, two-thirds of Seattle-based International Community Health Services' (ICHS) patient population does not speak English as a first language. To gain patients' trust and buy-in, this FQHC works directly with local leaders and employs staff from the community.
ICHS also uses trained medical interpreters who can help with understanding science and data and translate that to action, including why certain behaviors or medicines are important. It took a combination of these approaches for ICHS to achieve a hypertension control rate of 70% in 2015.
Another example of this work is Zufall Health, a clinic in New Jersey with nine locations. They provide wellness counseling and education, such as nutrition classes, yoga, and adult and child exercise programs. In 2015, Zufall Health helped control hypertension by forming trusting relationships with their patients, conveying to them the seriousness of hypertension, and giving them the means to control their blood pressure.
Learn more about ICHS pdf icon[PDF – 112 KB] and Zufall Health pdf icon[PDF – 110 KB].
Tailor successful strategies to your practice.
Examples of other hypertension control strategies include:
Self-measured blood pressure (SMBP) monitoring. Establishing an SMBP program is an important way to collect data, educate patients, and create motivation to improve hypertension control rates. Reliant Medical Group gave digital home monitors to 200 of its patients with prediabetes and diabetes. Several times a week, patients' readings were uploaded to their electronic health records, where they were reviewed by nurses. The nurses could then adjust medications or see which patients might need a different medication.
Providing physician performance incentives. A reward for improving patient outcomes can create friendly competition and propel performance. For example, Rush University Medical Group in Chicago created a quality improvement program with bonus payments to reward clinicians who are more successful at helping patients manage hypertension. In 2017, Rush University Medical Group achieved blood pressure control rates of 84%.
Learn more about Rush University Medical Group pdf icon[PDF – 312 KB].
Join the Nation of Champions
Do you have what it takes to join the nation of Champions? Look out for future Hypertension Control Challenge announcements on the Million Hearts® website. In the meantime, encourage your fellow health care professionals, teams, practices, and other staff to begin adopting success strategies now and tracking results. Get inspired by reading more about the Champions and their success strategies.
Increase your chances of hypertension control success and improve your overall performance by joining the Million Hearts® SMBP Forumexternal icon . Each quarter, the Forum brings together implementers, facilitators, and other supporters to exchange knowledge and find solutions to advance the practice of SMBP nationwide. You can also from CDC and Million Hearts® so you always have the latest information on tools and best practices to help you achieve greatness in hypertension control.
More Information:
Page last reviewed:
October 21, 2019