Success Story: Using Practice Facilitation to Improve Care Delivery
HealthyHearts NYC, New York City Department of Health and Mental Hygiene (2018)
The Opportunity
When it comes to hypertension control, there's always room to improve. That's the attitude the New York City Department of Health and Mental Hygiene took when it launched HealthyHearts NYC in 2015.
The EvidenceNOW initiative supported efforts to provide small- and medium-sized practices with the ability to quickly integrate evidence-based strategies in order to improve cardiovascular outcomes.
Find curated tools and resources to help your practice improve care and manage hypertension.
HealthyHearts NYC was a 3-year, grant-funded initiative conducted in partnership with the New York University School of Medicine and the Community Health Care Association of New York State. It was also one of seven cooperatives nationwide that participated in the EvidenceNOW: Advancing Heart Health in Primary Care initiative from the Agency for Healthcare Research and Quality (AHRQ).
HealthyHearts NYC provided support and expertise to more than 250 small practices in New York City to help them improve patient blood pressure control and other outcomes. Thanks to several strategies, in 2017, HealthyHearts NYC helped three New York City clinicians and practices become Hypertension Control Champions and reach an average hypertension control rate of 89%. In 2018, HealthyHearts NYC helped five more practices become Champions after reaching an average control rate of 87%.
What They Did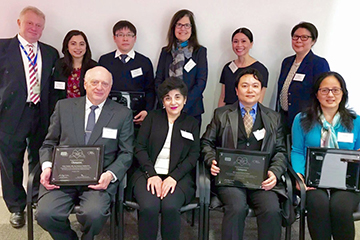 Focused on data
HealthyHearts NYC used data as its backbone in supporting clinicians and practices in overall care. The initiative used a unique system, established by the Department's Primary Care Information Project in 2009, that connects to member practices' electronic health records (EHRs). HealthyHearts NYC could run unique queries and aggregate information that showed practices how they were performing on blood pressure control both independently and compared to other city practices. Clinicians could access this information on their EHR dashboard or via onsite or remote visits from HealthyHearts NYC program facilitators.
HealthyHearts NYC also provided practices with tailored dashboard information that could report on a specific quality improvement metric, such as rates of hypertension among specific groups over a recent time period.
Used practice facilitation to help clinicians improve care delivery
Practice facilitation, sometimes called "quality improvement coaching," is a way to help practices implement evidence-based strategies. In this case, the strategies were related to the ABCS—Aspirin when appropriate, Blood pressure control, Cholesterol management, and Smoking cessation—of cardiovascular care. The facilitators' work was crucial to helping small practices by managing data to generate reports and helping practices use that data and EHRs to implement the most current guidelines.
This allowed clinicians to focus on patient relationships and delivering high-quality care while the facilitators ensured that the clinicians had actionable data and appropriate tools to help them change their practice.
HealthyHearts NYC's team of 16 practice facilitators received extensive and ongoing training on evidence-based guidelines, federal programs and incentives, chronic care models, and the chronic conditions. Most importantly, the facilitators were EHR experts who could train practices on how best to use EHRs for quality improvement and population health monitoring.
One week, a practice facilitator might be helping a practice set up an EHR template; the next, she might be instructing clinicians on proper blood pressure management techniques. The HealthyHearts NYC practice facilitators also met often as a group to share best practices, barriers, and resources.
"Our facilitators wear a lot of hats," said Ernesto Fana, director of quality improvement. "But their main role is to foster relationships and maintain communication."
Challenges of Small Practices
Small practices have limited resources and high staff turnover, which can greatly affect their capabilities. They usually can't afford to hire specialized trainers or spend much time researching the latest guidelines or learning the population health software. They may not have enough staff to be able to do "team huddles," a common recommendation. Facilitators can learn about the unique needs of the small practices and help find creative and tailored solutions to address the patient and community needs.
Take Action
Physicians' associations, accountable care organizations, large health systems, and health center networks all have the ability to do practice facilitation. Practices interested in practice facilitation and data sharing should
Research these organizations in their areas.
Consider joining quality improvement projects or studies. Rather than taking away from resources, says Hang Pham-Singer, senior director of quality improvement, these types of projects can help clinicians reach their goals in delivering better quality care.
Learn More