Success Story: FQHC Relies on Empowered Care Teams for Underserved Populations
Esperanza Health Centers, Chicago, Illinois (2019)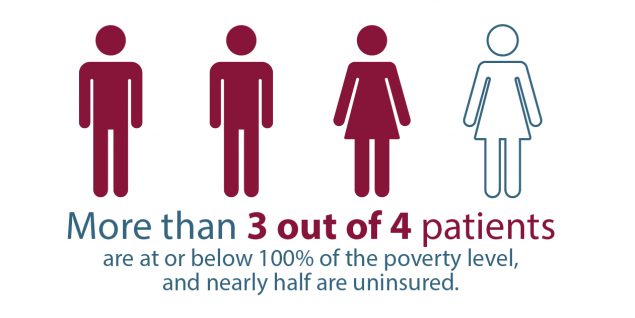 The Challenge
Esperanza Health Centers is a Federally Qualified Health Center (FQHC) in Chicago, Illinois, that cares for more than 23,000 patients, with the largest age group being between 18 and 44 years old. Patients are from a largely Spanish-speaking and immigrant demographic.
One of the biggest barriers to hypertension control for Esperanza's patients is the cost of medications and related supplies, such as blood pressure monitors. More than 3 out of 4 patients are at or below 100% of the poverty level, and nearly half are uninsured. Prevalence of diabetes, obesity, and dyslipidemia is high, as is the prevalence of behavioral health conditions such as depression and anxiety.
The Solution
Esperanza addresses social and cultural barriers for its patients through financial resources, self-management education, and continual follow-ups. Esperanza also emphasizes hypertension control protocols and the benefits of control by focusing on data transparency and strengthening its team-based care practices. As a result, Esperanza raised its control rate from 75% in 2016 to 82% in 2019.

Strategies for Success
Esperanza's hypertension control success was based on the following approaches:
Strengthened team-based care

Developed best practices for care teams and defined individual roles in improving hypertension control
Provided coaching to teams as well as opportunities for team members to review progress, share ideas, and test process improvements
Promoted data transparency

Educated staff on how to document and pull data accurately from electronic medical records (EMRs)
Shared and reviewed a monthly dashboard presenting each team's data and progress and incorporated incentives for teams that met quality program goals
Used EMRs to identify patients in need of outreach and to track Esperanza's progress with hypertension control throughout the year

Addressed social and cultural factors that affect patient health

Delivered culturally appropriate self-management education in patients' preferred language
Identified individual patient barriers, then connected patients to external or internal programs and resources, such as health and wellness programs
Created the "Patient Emergency Fund" for patients in financial hardship, which covers small costs for medication refills and food insecurity
Offered free nurse visits and blood pressure monitors for patients with uncontrolled hypertension and diabetes
"Grounded in data and fueled by new ideas, the Esperanza team made hypertension control a clinical quality priority for the past 4 years. We made continuous improvement along the way, involving everyone from our frontline clinical staff to our board of directors. We care deeply about our patients and continue to partner with them on their hypertension goals while delivering whole-person, team-based primary care."
—Andrew Van Wieren, MD, FACP, chief medical officer
Related Million Hearts® Resources and Tools
Page last reviewed:
August 6, 2020