Hypertension Control Champions
The Million Hearts® Hypertension Control Champions are clinicians, practices, and health systems that have successfully completed the Million Hearts® Hypertension Control Challenge.
The Challenge is an opportunity for clinicians, practices, and health systems to demonstrate excellence in hypertension control. Hypertension Control Champions must reach 80% control rates among their hypertensive patients.
Learn more about the Hypertension Control Challenge.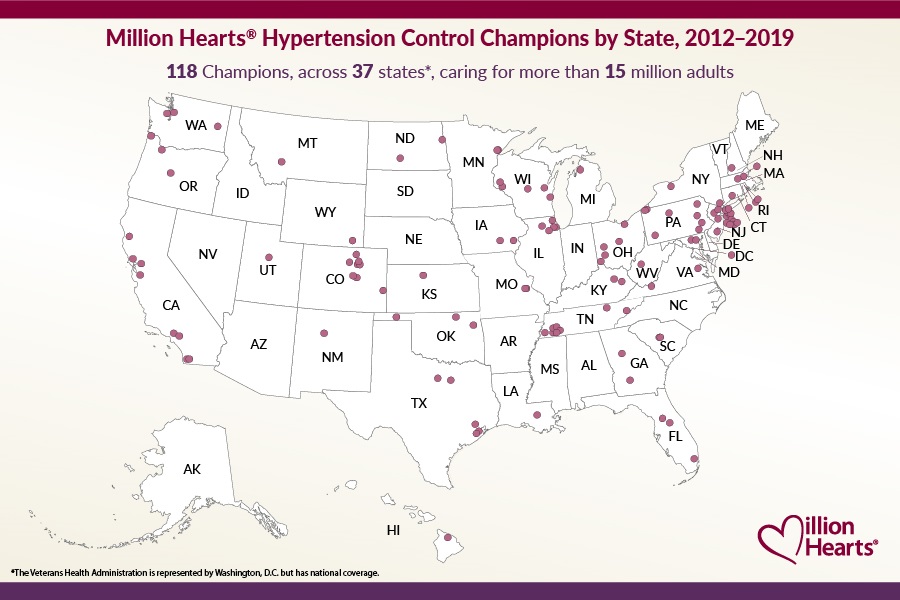 All these Hypertension Control Champions made blood pressure control a priority. They achieved improved performance by implementing health information technology, home blood pressure monitoring, and medication adherence.
Congratulations, 2019 Champions!
Million Hearts® has recognized 17 solo practitioners, large health systems, community health centers, and specialty groups as 2019 Hypertension Control Champions. In their work, these Champions were able to achieve blood pressure control for at least 80% of their adult patients with hypertension.
Together, the 2019 Champions cared for nearly 360,000 adults. Read a recent Morbidity and Mortality Weekly Report about the 2019 champions.
Alexander Valley Healthcare, Cloverdale, California*
Burstein Medical Associates, Philadelphia, Pennsylvania
Charles City Regional Health Services, Inc., Charles City, Virginia*
Community Health Centers of Southeastern Iowa, Inc., West Burlington, Iowa*
Esperanza Health Centers, Chicago, Illinois*
Gilman Family Practice, Spokane Valley, Washington
Larry S. Hahn, DO, Pinnacle Physicians Group, Feasterville-Trevose, Pennsylvania
Hunterdon Cardiovascular Associates, PA, Flemington, New Jersey
Intermountain Moroni Clinic, Moroni, Utah
Nusrat Khan, MD, MBA, CMQ, Medpeds Medical Clinic, PA, Weatherford, Texas
Paul Mantia, MD, Elmhurst, New York
Marshfield Clinic Health System, Marshfield, Wisconsin*
Mercy Health Clinics, LLC (Mercy Health–Irvine Primary Care, Mercy Health–Powell County Primary Care, Mercy Health–Lee County Primary Care), Irvine, Kentucky
Mid-Florida Primary Care, Leesburg, Florida
Edward Rippel, MD, Quinnipiac Internal Medicine, PC, Hamden, Connecticut
University Internal Medicine, Inc., Pawtucket, Rhode Island
Gonzalo Urbano, MD, Brooklyn, New York
* Denotes a health care organization that is or includes a health center funded by the Health Resources and Services Administration (HRSA).
2012–2018 Hypertension Control Champions
Babson & Associates Primary Care, PC, Cheyenne, Wyoming
David Yamamoto, MD, Peak to Peak Family Medicine, Arvada, Colorado
Fairview Family Medicine, Fairview, Pennsylvania
High Plains Community Health Center Holly Clinic, Holly, Colorado*
Hinman Family Medicine, Longmont, Colorado
Jia Hong, MD, Flushing, New York
Juniper Health, Inc., Beattyville, Kentucky*
Keystone Rural Health Consortia, Inc., Emporium, Pennsylvania*
Mark Tsinker, MD, Bay Parkway Medical, PC, Brooklyn, New York
Millcreek Medical Arts, Erie, Pennsylvania
Mountain People's Health Councils, Oneida, Tennessee*
Nhan Hoa Comprehensive Health Care Clinic, Garden Grove, California*
Pacific Family Medicine, Astoria, Oregon
Patel Medical Center, Brooklyn, New York
Physician Associates of Virginia, PC, Salem Family Clinic, Salem, Virginia
Shelly Shi, MD, New York, New York
Southern Colorado Medicine, Colorado Springs, Colorado
Terence Chun Hung Hsuih, MD, 8th Avenue Medical Office, Brooklyn, New York
* Denotes a Federally Qualified Health Center (FQHC)external icon.
Anming Luo Physician, PC, Brooklyn, New York
Charles King Chan, MD, New York, New York
Citrus Health Network, Inc., Hialeah, Florida
Erwin Mermelstein, MD, East Brunswick, New Jersey
Greater Elgin Family Care Center, Elgin, Illinois
Jeffrey James Lim, MD, FACP, Guymon, Oklahoma
LifeLong Medical Care Downtown Oakland Health Center, Berkeley, California
Lorain County Health & Dentistry, Lorain, Ohio
Lynn Community Health Center, Lynn, Massachusetts
Maninder S. Kohli, MD, FACP, Hinsdale, Illinois
Michael Andrew Cooper, MD, Flower Mound, Texas
Michael Richter, MD, Queens, New York
New West Physicians, Golden, Colorado
North Hudson Community Action Corporation Health Center, West New York, New Jersey
OhioHealth Primary Care Physicians, Columbus, Ohio
Plymouth Family Physicians, SC, Plymouth, Wisconsin
River Hills Community Health Center, Ottumwa, Iowa
Rural Medical Services, Inc., Newport, Tennessee
Rush University Medical Group, Chicago, Illinois
Sanford Health Clinics, Sioux Falls, South Dakota
Sharp Rees-Stealy Medical Group, San Diego, California
Southwest Orlando Family Medicine, PL, Orlando, Florida
The Wright Center for Community Health Clarks Summit Practice, Clarks Summit, Pennsylvania
WellOne Primary Medical and Dental Care, Pascoag, Rhode Island
AHRC Health Care, Inc., dba ACCESS Community Health Center, New York, New York*
Albany Area Primary Health Care, Inc., Albany, Georgia*
Atrius Health, Newton, Massachusetts
Altru Health System, Grand Forks, North Dakota
Baltimore Medical System at Middlesex, Baltimore, Maryland*
Hamakua-Kohala Health, Honoka'a, Hawaii*
International Community Health Services, Seattle, Washington*
Jason Infeld, MD, FACC, Stern Cardiovascular Foundation, Germantown, Tennessee
Kaiser Permanente of Georgia and The Southeast Permanente Medical Group, Atlanta, Georgia
Kelsey-Seybold Clinic, Webster, Texas
Mercy Clinic East Communities, St. Louis, Missouri
Oregon Health & Services University Family Medicine, Richmond, Portland, Oregon*
Petaluma Health Center, Petaluma, California*
Reliant Medical Group, Worcester, Massachusetts
Thundermist Health Center, Woonsocket, Rhode Island*
Unity Family Medicine– Bernard's, Rochester, New York*
Westmed Medical Group, Purchase, New York
Zufall Health Center, Dover, New Jersey*
* Denotes an FQHC.
Arsalan Shirwany, MD, FACC, Stern Cardiovascular Foundation, Germantown, Tennessee
The Baton Rouge Clinic, AMC, Baton Rouge, Louisiana
Brett Gray, MD, Cherokee Nation Health Services A-Mo Health Center, Salina, Oklahoma
Colorado Springs Health Partners, Colorado Springs, Colorado
Daniel Otten, MD, FACC, Stern Cardiovascular Foundation, Germantown, Tennessee
Denver Health Community Health Services, Denver, Colorado*
East Jordan Family Health Center, East Jordan, Michigan*
Esse Health, St. Louis, Missouri
Essentia Health, Duluth, Minnesota
Family Health Centers of San Diego, California*
Green Spring Internal Medicine, LLC, Lutherville, Maryland
Holger Salazar, MD, FACC, Stern Cardiovascular Foundation, Germantown, Tennessee
Jennifer Morrow, MD, FACC, Stern Cardiovascular Foundation, Germantown, Tennessee
Kaiser Permanente Southern California
Kelsey-Seybold Clinic–Cypress, Houston, Texas
Kelsey-Seybold Clinic–Pasadena, Texas
Lexington Family Practice, Lexington, South Carolina
Mark Backus, MD, FACP, Bend, Oregon
Methodist Medical Group–Primary Care, Memphis, Tennessee
Michael Rakotz, MD, FAHA, FAAFP, Northwestern Memorial Physicians Group, Chicago, Illinois
Peninsula Community Health Services, Bremerton, Washington*
Premier Medical Associates, Monroeville, Pennsylvania
Presbyterian Healthcare Services, Albuquerque, New Mexico
PriMed Physicians, Dayton, Ohio
Reginald Parker, MD, Northlake Family Medical Practice, Columbia, South Carolina
Roane County Family Health Care, Spencer, West Virginia*
Southwest Montana Community Health Center, Butte, Montana*
Luke's P.S. Rudie Medical Clinic, Duluth, Minnesota*
Upper Valley Family Care, Troy and Piqua, Ohio
WinMed Health Services, Cincinnati, Ohio*
* Denotes an FQHC.
Broadway Internal Medicine, PC, Queens, New York
Cheshire Medical Center/Dartmouth-Hitchcock Keene, New Hampshire
Jen Brull, MD, Plainville, Kansas
Kaiser Permanente Northern California
Nilesh V. Patel, MD, FRCS(Eng), Audubon, Pennsylvania
Pawhuska Indian Health Center, Indian Health Service, Pawhuska, Oklahoma
River Falls Medical Clinic, River Falls, Wisconsin
ThedaCare Regional Medical Center–Appleton, Wisconsin
Veterans Health Administration, U.S. Department of Veterans Affairs
Ellsworth Medical Clinic, Ellsworth, Wisconsin
Kaiser Permanente, Denver, Colorado
Page last reviewed:
May 5, 2020