Hypertension Control Champions
The Million Hearts® Hypertension Control Champions are clinicians and practices that have successfully completed the Million Hearts® Hypertension Control Challenge.
The Challenge is an opportunity for clinicians and practices to demonstrate excellence in hypertension control. Hypertension Control Champions must reach 80% control rates among their hypertensive patients.
The 2022 Million Hearts® Hypertension Control Challenge is now closed. Check back later for updates on our 2022 Hypertension Control Champions.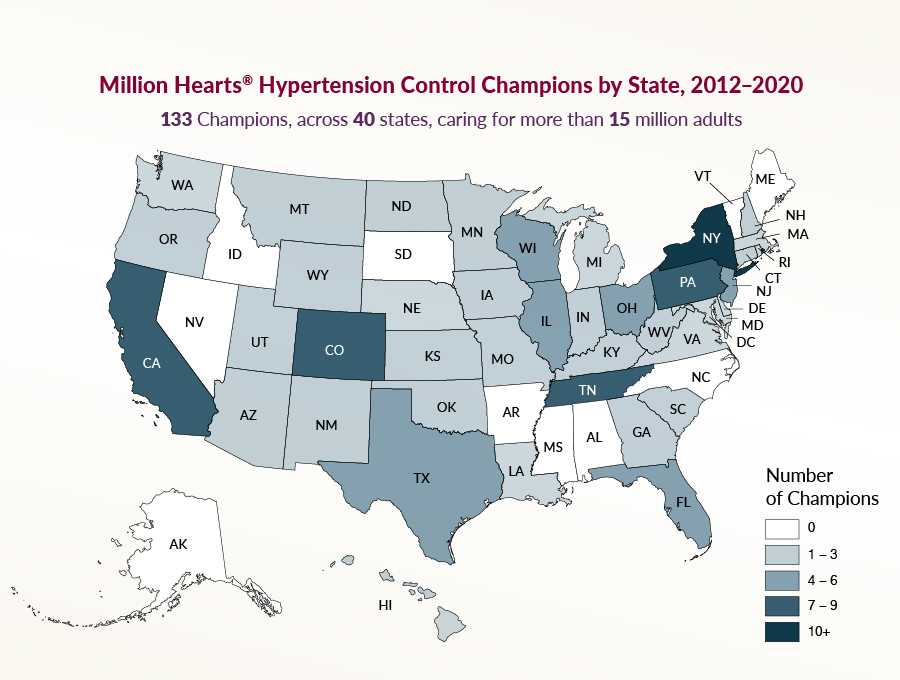 All these Hypertension Control Champions made blood pressure control a priority. They achieved improved performance by implementing health information technology, home blood pressure monitoring, and medication adherence. Download a one-page overview of the Hypertension Control Champions [PDF – 1 MB].
Congratulations, 2020 Champions!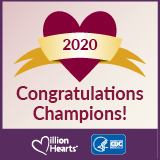 Million Hearts® has recognized 15 solo practitioners, large health systems, community health centers, and specialty groups as 2020 Hypertension Control Champions. In their work, these Champions were able to achieve blood pressure control for at least 80% of their adult patients with hypertension.
Together, the 2020 Champions cared for more than 200,000 adults. Learn more about the 2020 Champions' successes.
Bon Secours Charity Health System Medical Group, PC, Suffern, New York
Chota Community Health Services, Madisonville, Tennessee*
Daysi Baez, MD, PC, Rego Park, New York
Delaware Primary Care LLC, Dover, Delaware
La Clínica Tepeyac, Inc., Denver, Colorado*
Maple City Health Center, Goshen, Indiana*
Med-Cure Internal Medicine, Plc, Goodyear, Arizona
Miami Beach Community Health Center, Miami, Florida*
Northeast Missouri Health Council, Kirksville, Missouri*
PrairieStar Health Center, Hutchinson, Kansas*
Regional Health Care Affiliates, Inc., Providence, Kentucky*
Saulius J. Skeivys, MD, PC, Woodside, New York
Siouxland Community Health Center, Sioux City, Iowa, and South Sioux City, Nebraska*
Valley Professionals Community Health Center, Bloomingdale, Indiana*
Valley Professionals Community Health Center, Rockville, Indiana*
* Denotes a health care organization that is or includes a health center funded by the Health Resources and Services Administration (HRSA).
Hypertension Control Champions by State
Page last reviewed:
September 1, 2022